Introduction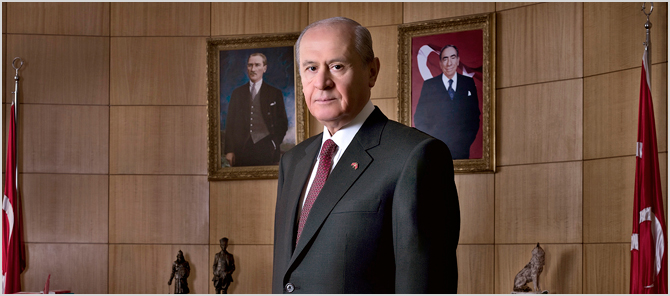 This program introduces, the basic principles, objectives and policies of serving our nation by inspiring from the values coming from the history and roots of our nation, increasing democratic standards, protecting and developing basic human rights and liberties, increasing life quality of our people and ensuring peace and safety in the rule of The Nationalist Movement Party alone aiming to build a fully independent, powerful and greater Turkey.
Our Party, which in the last forty years of the Turkish political history, in power or in opposition, either within or outside Turkish Grand National Assembly, in any case and circumstance, did politics with the slogan of "first my country and nation, and then my party" as a prerequisite of the concept of responsible politics, is embracing the future with the trust in its cadres that have the belief, knowledge, experience and ideal of realizing the vision of making Turkey a "Leading Country" in 2023, the first centenary of our Republic's foundation.
Our party steps forward for happy future with a great perseverance and commitment. Our happy movement taking its strength from our unity and solidarity and the steady love for Turkish Nation; will certainly reach its objectives despite any kind of threat from inside or outside, and the 21st century will be the Turkish one.
The Nationalist Movement Party is a dynamic party which is continuously developing its program, targets, policies and projects for the benefit of our nation and humanity in order to meet the expectations of Turkish Nation at the highest level by reading the change and development in the world correctly in the light of its basic ideas and principles. Within this scope, the new Program was accepted at the Ordinary Congress held on November 8th, 2009 when we celebrated the 40thanniversary of our party and the one which had been adopted at the Ordinary Congress held on November 5th, 2000 was abolished.
This Program which highlights the basic principles, objectives and policies to realize the expectations and wishes of our nation according to the ideal of elevating our country over the current level of civilization; is the agreement of the The Nationalist Movement Party with Turkish Nation in the march of "Coming to Power Alone".
Our trust in our people is complete. What we expect from our nation is to deserve their favor. Turkish Nation will bring the country from submission to prestige, from poverty to prosperity, from corruption to clean society, from gloom to justice and from darkness to enlightenment by giving credit to The Nationalist Movement Party, which will take them to the power.
Through this Program the National Movement Party is inviting everybody to stand against submission, to gather in brotherhood and to share happy future.
Dr. Devlet Bahçeli